Genetic engineering of microalgae is considered a promising tool due to its industrial potential in fields such as biofuel production and human nutrition. However, the genetic manipulation of microalgae is complicated due to various obstacles like the lack of endogenous promoters and other regulatory regions.

Additionally, if the genetic transformation is achieved the selection of the transformant is difficult, and the techniques used to this day are not entirely stable. Currently, the most widely used method to isolate transformant microalgae is the selection of antibiotics.
However, this method has a clear drawback: selective genes can be transferred to other organisms, promoting the unwanted development of antibiotic resistance.

An alternative to this method is the selection with herbicides, but those currently used also have disadvantages, mainly their carcinogenic potential, and their high cost.
The researchers have designed a plasmid named Phyco 69 that comprises (1) the gene encoding the protein of interest to be expressed, (2) a promoter, and (3) the fusion between a gene that codes for the auto hydrolyzable peptide FMDV 2A of Foot and Mouth Disease Virus and the gene that codes for an enzyme that provides resistance. The FMDV 2A peptide is separated from the resistance enzyme after its autohydrolysis (before its translation), which allows the independent production of the protein of interest and the resistance protein.

This design allows the selection of the microalgae that have a higher degree of resistance, and therefore have a higher expression of the protein of interest.
In addition, they have designed a genic construction with the CRTI gene, which provides resistance to norflurazon, a herbicide used for the selection of transforming microalgae that does not involve the problems of the current selection methods.
Although both technologies are designed for their independent use, the CRTI gene could be incorporated into the Phyco 69 plasmid as the resistance gene. Therefore, the system could be a useful tool for the genetic transformation of microalgae and the selection of these with herbicide.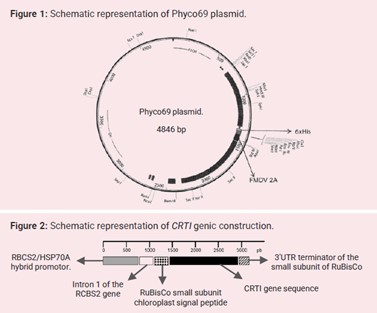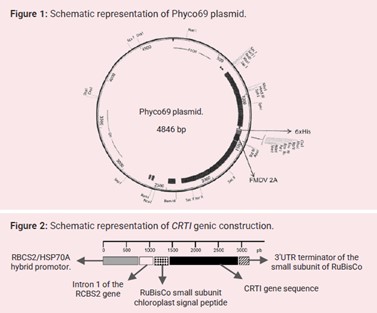 The plasmid has been used for the genetic transformation of Chlamydomonas reinhardtii. Likewise, the gene construction with the CRTI gene has been used for the selection of Chlamydomonas reinhardtii, Chlorella sorokiniana, Dunaliella salina, Dunaliella bardawil and Tetraselmis suecica. In terms of intellectual property both the plasmid and the gene construct are protected by patent.
Benefits
Provides useful tools for industrial applications.
Both technologies can be used together or in combination with other genetic engineering tools.
The transcription of both proteins is ensured.
Antibiotic resistance development is avoided by using a cheaper and non-carcinogenic herbicide.
The represented institution is looking for a collaboration that leads to the commercial exploitation of the presented invention.
Institution: Universidad de Huelva (UHU).
TRL: 4-5
Protection status: Granted Patent
Contact: Nuria Bas / nuria@viromii.com