Glaucoma is a multifactorial neurodegenerative disease that leads to irreversible blindness. It is characterized by the progressive loss of retinal ganglion cells and affects 15 million people worldwide. Primary Open Angle Glaucoma (POAG) is the most common form of glaucoma. Currently, the only treatment available is the hypotensive treatment, but this does not prevent the progression of neuropathy.
Although glaucoma is one of the preventable blindnesses according to WHO (World Health Organization), the biggest problem is that early identification of the subject with ocular hypertension in many cases is delayed too long. What usually happens is that POAG is asymptomatic in its early stages and for this reason, the diagnosis is made when it is already very advanced and the damage to vision cannot be counteracted. For this reason, ophthalmologists and researchers have been trying for many years to find biomarkers that can be used in the clinic as a recourse alternative for diagnosing POAG and developing new therapies.

Researchers from the Polytechnic University of Valencia, University of Valencia, and Foundation for the Promotion of Health and Biomedical Research of Valencia Region have developed an in vitro method for the early detection, diagnosis, and prognosis of POAG using a tear sample. The method of the invention is non-invasive and comprises the following steps:
    1) The embodiment of a metabolomic analysis by high-field nuclear magnetic resonance (NMR) spectroscopy of the tear samples previously obtained from a subject.
    2) Processing of the spectrum obtained, comparing it with other metabolic profiles, to determine a result that indicates whether the subject will be positive or negative for POAG.

In collaboration with FISABIO – Dr. Peset, a study has been performed with samples of 30 subjects, 11 of whom were glaucoma patients and 19 healthy control subjects. A statistical model has been obtained with 66% of the samples and subsequently applied to the validation subset.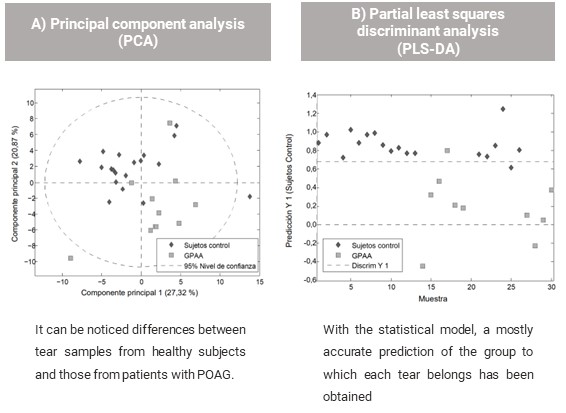 This novel diagnostic method provides many benefits:
The sample preparation is simple, and is obtained by a non-invasive, painless, and inexpensive procedure.
Specific equipment is needed for NMR metabolic analysis, but it is usually available in universities and research centers.
The technique itself is highly reproducible and allows comparison of results obtained at different times.
It has a sensitivity of 100% and specificity of 83% for tear discrimination between patients and controls.
The represented institution is looking for a collaboration that leads to commercial exploitation of the presented invention.
Institution: Universitat Politècnica de València, Universitat de València, Fundación para el Fomento de la Investigación Sanitaria y Biomédica de la Comunitat Valenciana (FISABIO)
TRL: 3-4
Protection status: Spanish Patent Application and PCT extension
Contact: Elisa Saenz / e.saenz@viromii.com