Periodontal disease is one of the most common oral health conditions, affecting more than 50% of the adult population. Current treatments include surgical and oral antibacterial treatments. On one hand, surgical treatments are invasive and can originate conditions such as hypersensitivity, bleeding, or inflammation.
On the other hand, with the oral administration of antibiotics, the concentration necessary for the treatment does not reach fully the affected area. This increases the dosing frequency and promotes the development of microbial resistance. An alternative to these treatments are hyaluronic acid gels with incorporated antiseptics, like chlorhexidine, but these have also shown some adverse effects such as parotid gland swelling, pigmentation of the oral soft tissues and teeth, type 1 hypersensitivity reactions or taste alteration.

In response, researchers from the University of les Illes Balears and IdISBa have developed a hyaluronic acid gel incorporated with mangostanin. This is an antiseptic compound that has been demonstrated to have antimicrobial, biocompatible, and anti-inflammatory properties in both in vitro and in vivo (rat model of periodontitis) conditions. The gels helped to rebalance the microbiota of gingival crevicular fluid, and the antiseptic was released in a controlled and prolonged manner at the site of action.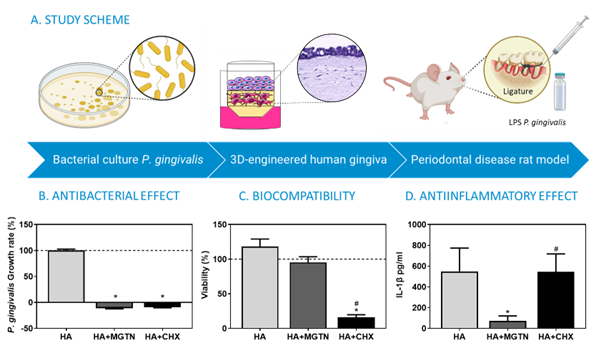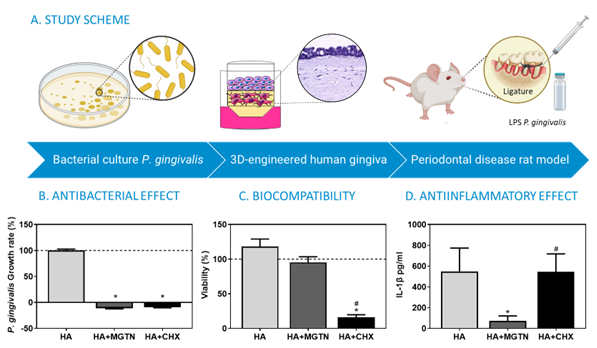 The gels have been tested in periodontitis-induced rats using a validated procedure, and have been proven to be effective and safe. After establishing a regulatory roadmap, the gels have been classified as a "personal hygiene product".
Benefits:
The gels are biocompatible and the materials proposed do not present oral tissue adverse effects.
The gels have an anti-inflammatory effect.
The gels have an antimicrobial effect.
In contrast to other commercial treatments, these gels maintain and restore the natural subgingival microbiota.
They could be a safe and effective alternative therapy for periodontal disease.

The represented institution is looking for a collaboration that leads to the commercial exploitation of the presented invention.
Institution: Universitat de les Illes Balears – Cell therapy and Tissue engineering (TERCIT) research group & IdiSBa
TRL: 4-5
Protection status: EU Patent Application. PCT application is currently being prepared.
Contact: Nuria Bas / nuria@viromii.com