Diversity-Oriented-Synthesis (DOS) is the most advantageous synthetic strategy applied in drug discovery to disclose new pharmaceuticals from single precursors. In this scenario, the use of fluorinated motifs occupies a privileged position but the current diversity of such modifications is scarce, and only a few of them are applicable to DOS schemes, which prevents them from reaching their full potential. Additionally, structural diversification comprising polyfluorinated motifs beyond F and CF3 groups is poor, which narrows the boundaries of drug discovery and medicinal chemistry areas.
Additionally, chemists still face several challenges in the area of lead optimization: thousands of products are bought from multiple vendors in packages that widely exceed the required amount. Moreover, the construction of internal inventories highly elevates storage costs, worsening the sustainable use of chemical resources and increasing the production of dangerous wastes. In addition, reaction protocols need to be searched, optimized, and adapted to run multiple parallel reactions, which are very time-consuming and laborious. In conjunction, these problems increase the overall operational cost and time expenses and the production of chemical residues. The market offers some diversification packs, but they come with non-customizable options in product selection, amount, format, or Ready-to-React setup. 
To broaden the diversity of fluorinated motifs, researchers at Rovira i Virgili University (URV) have developed new saccharine-derived reagents that allow the introduction of multiple fluorinated modifications compatible with DOS.
Additionally, to solve the problems in lead optimization previously stated, and to complement the proposed technology, the researchers have developed Ready-to-React (R2R) kits. These consist of integrated solutions that include parallel reaction platforms, predefined and customized packs of products in single-dose amounts, and optimized reaction setup protocols, amenable to Diversity-Oriented Synthesis (DOS).
The fluorination reagents have been developed and tested with relevant products that emulate the end-use of the reagents. Next steps include scalability, stability, and quality studies to further develop the technology and ensure commercial viability. Following a Spanish Patent Application, a PCT extension has been submitted in 2021 at the OEPM (Spanish Patent and Trademark Office).
Benefits of the fluorination reagents:
They permit novel modifications with great potential to optimize APIs.
The modifications can be directly incorporated into API precursors whereas previous modifications were only accessible through de novo synthesis.
The reagents have shown to be very stable at different temperatures and common organic solvents.
It is a cost-effective strategy, reducing the time and costs of synthesis.
Benefits of R2R kits:
The use of R2R kits will avoid storage and product acquisition costs, facilitate centralized purchasing of building blocks from multiple vendors, and reduce the time employed in routinary tasks in the laboratory.
The dosage of the reagents in the kits reduces the production of toxic residues.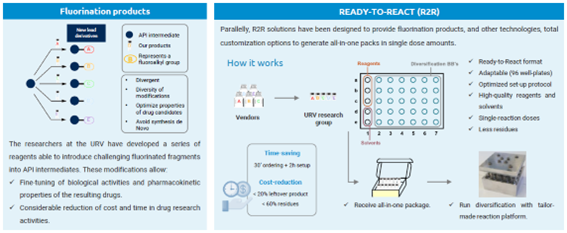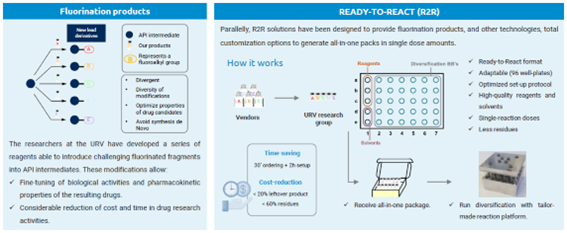 The kits have been developed in the context of the technology proposed, but they could easily be applied to other transformations in drug research.
The represented institution is looking for a collaboration that leads to commercial exploitation of the presented invention.
Institution: Rovira i Virgili University (URV)
TRL: 5-6
Protection status: Patent Application and PCT Extension
Contact: Noelia Mas / noelia@viromii.com