The presence of volatile organic compounds (VOCs) in the air, is to this day a relevant problem for the environment and human health. The problem is aggravated indoors, especially in laboratories where researchers are in constant contact with different types of reagents and solvents. There are currently several commercial sensors for the measurement of chemical compounds in indoor air. However, these sensors are designed for the identification of a limited number of compounds whose identity is known beforehand. In research and chemical synthesis laboratories, several chemical reactions can take place in which VOCs of different nature are generated, so these systems are not entirely useful.
Researchers from the Universidad de Córdoba (Spain) have designed a portable device for the detection of VOCs in the air, to identify harmful substances and prevent their adverse effects on human health. It is a non-targeted system, so an unlimited number of compounds of diverse nature can be identified.
The device consists of a fan powered by a portable power source. An airflow is forced into the fan and the analytes are trapped in sorbent materials adhered to the blades. Once retained in the material, analytes can be extracted by solid phase microextraction (SPME) or tissue phase sorption extraction (FPSE). Finally, the compounds are identified using a gas chromatography system coupled to a mass spectrometer.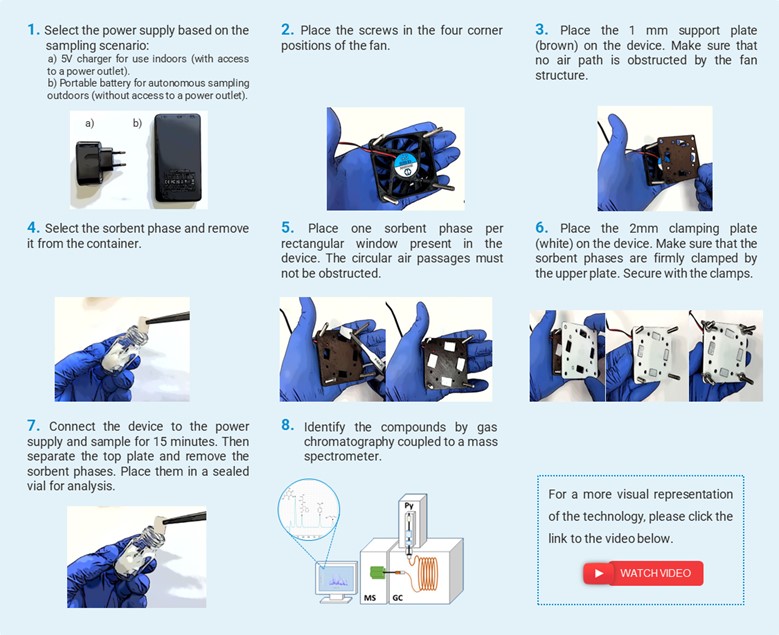 Usage protocol for the technology proposed

A prototype of the device has been developed and proved in a chemical synthesis laboratory. All of the chemicals used during the trial period were identified with precision in the sorbent materials.
Additionally, an international patent application covers the design and usage protocol of the device.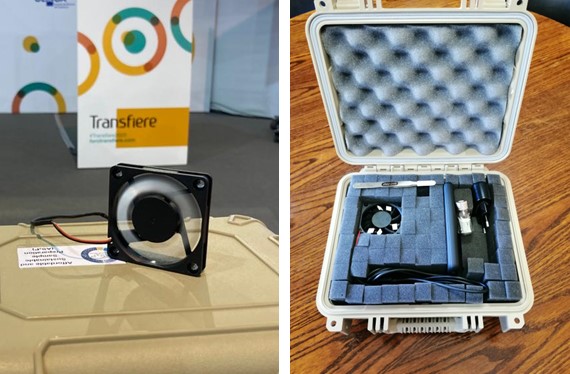 Prototype of the indoor air sampling device and its carrier with accessories

Benefits:
The system is compact and portable, allowing the device to be easily transported.
The identification is not limited to a certain number of compounds. Compounds of different nature can be identified using this device.
The analysis proposed using this device is qualitative and quantitative.
Although it is designed to suit indoor places, it could be efficiently used outdoors.

The represented institution is looking for a collaboration that leads to commercial exploitation of the presented invention.
Institution: Universidad de Córdoba
TRL: 5-6
Protection status: Patent Application
Contact: Nuria Bas / nuria@viromii.com