The Internet of Things (IoT) is becoming more common in home and industrial applications. This phenomenon has two main challenges:
    a) usage of already existing hardware to avoid costly replacements
    b) connectivity of devices in a power-efficient way.
To solve both issues, researchers from the Universitat Politècnica de Catalunya (UPC) have developed a new technology that:
    a) can use off-the-shelf Wi-Fi transmitters to communicate to non-Wi-Fi home appliances
   b) allows to use Wi-Fi transmitters to send low-rate signals to wake up power-hungry devices that are in energy-saving state. This can work as a Wake-up Radio (WuR) solution for power-saving.
The invention proposes the usage of low power consumption and low-rate (LR) receivers in non-Wi-Fi devices (or conventional Wi-Fi devices such as domestic or enterprise-level wireless routers) for their control. This method uses elements and signals already present in off-the-shelf Wi-Fi transmitters, requiring only a software update to communicate with the receivers. The sent signals to LR receivers are based on Orthogonal Frequency Division Multiplexing (OFDM) symbols.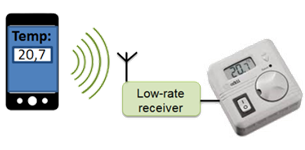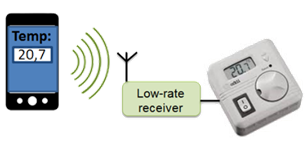 Simplified diagram for the connection between a Wi-Fi transmitter and a non-Wi-Fi device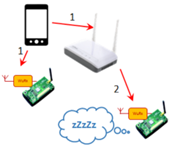 Simplified diagram for the connection between a Wi-Fi transmitter and a Wake-up Receiver
In the case of control and monitoring home appliances, by implementing a LR receiver, the invention consumes less power compared to common Wi-Fi receivers, an important aspect in battery-powered devices.
For larger devices, the purpose of the signal is to connect the Wi-Fi transmitter with a Wake-up receiver to activate the device from a sleeping state. Under this state, the power consumption from larger instruments such as Wi-Fi access points or repeaters is proven to be way lower (e.g., allowing the usage of power-saving modes, or just turning off the device when not in use).
The invention can use already existing Wi-Fi devices as transmitters. Only a software update would be required.
It is possible to control non-Wi-Fi IoT elements with a Wi-Fi transmitter. Therefore, it is not required to market new instruments.
Lower power consumption compared with other connection methods.
A proof-of-concept implementation has been performed: a WuR-enabled smart switch was used to control the operation of a commercial Wi-Fi access point. The power consumption was reduced by more than a half in comparison to other commercial solutions.
The represented institution is looking for a collaboration that leads to commercial exploitation of the presented invention.
Institution: Universitat Politècnica de Catalunya (UPC)
TRL: 6-7
Protection status: Patent Application
Contact: Pablo Lago / pablo@viromii.com