Infectious diseases can spread very rapidly and are increasingly difficult to treat, causing serious health problems worldwide In this line, in 2020 the World Health Organization (WHO) included them in its list of urgent global health challenges.

In most cases, there are no specific treatments for these viral infections and in particular, there are a wide variety of viruses for which no treatment is available. For example, the treatment of adenovirus HAdV infections in immunocompromised patients remains a major challenge.
Accordingly, researchers at the Institute of Biomedicine of Sevilla IBiS in collaboration with the Jia Zhou Group at the University of Texas Medical Branch (UTMB) have developed a library of niclosamide-derived molecules to treat viral infections.

The group has identified several novel niclosamide derivatives, which are salicylamide derivatives, for the treatment of opportunistic viral infections. These newly designed and synthesized molecules show potent antiviral effects against a wide variety of viruses and enhanced pharmacokinetics like aqueous solubility, oral bioavailability, and low cytotoxicity, which are important factors for their use in clinical practice.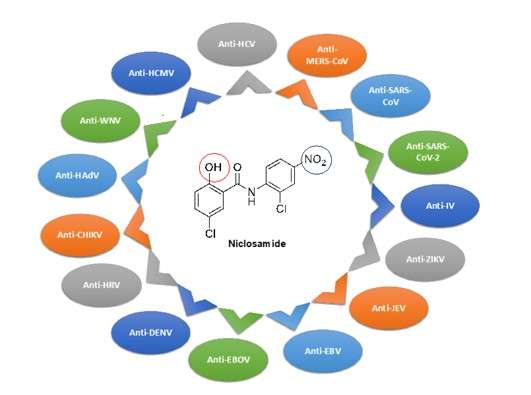 These novel niclosamide derivatives provide many benefits:
The compounds show potent antiviral effects with sub-micromolar IC50 values and low cytotoxicity.
They may have great potential in being repurposed to treat a variety of viral infections such as MERS-CoV or SARS-CoV-2 among others, as a broad-spectrum antiviral agent.
The compounds may be formulated for oral or parenteral use in a conventional manner using known pharmaceutical carriers and excipients.

The represented institution is looking for commercial feedback on their technology. The ideal scenario is a collaboration that leads to the commercial exploitation of the presented invention, particularly a co-development agreement.
Institution: Instituto de Biomedicina de Sevilla (Ibis- Biomedicine Institute of Sevilla)
TRL: 3-4
Protection status: EU and US Patent Application.
Contact: Elisa Sáenz / e.saenz@viromii.com