Assisted reproduction technologies have a relevant role in human and veterinary medicine since, infertility is a highly prevalent condition and considered a major health problem globally. Whereas, in animals, the reproduction sector is innovative and needs new technologies to develop its proficiency and increase efficiency and production competence. The use of biocompatible Nanoparticles is widespread in the field of biotechnology and biomedicine. Currently, in assisted reproduction, these nanoparticles have only been used in sperm cells in the detection of damaged sperm and sperm-mediated transgenesis. One of the common problems, both for animals and humans, is the handling process which requires highly specialized personnel. Also, other obstacles such as automation problems and process scalability are being studied.
Researchers from the University of Murcia have developed a novel molecular method, which deals with the use of nanoparticles in oocytes and/or embryos through a protein binding technology, which makes this a very specific union, representing an innovation of unknown characteristics until now.
The present technology describes an easy procedure for attaching nanoparticles to the external surface of oocytes and/or embryos. The method starts with the conjugation of Biocompatible Nanoparticles with the recombinant protein. It is verified that the conjugation nanoparticles bind to the zona pellucida of oocytes/embryos after co-incubation. Once the nanoparticles are attached, they can be moved towards any required direction or stay fixed, avoiding undesired displacements without physical manipulation but by applying controlled magnetic fields, making the process easier and safer.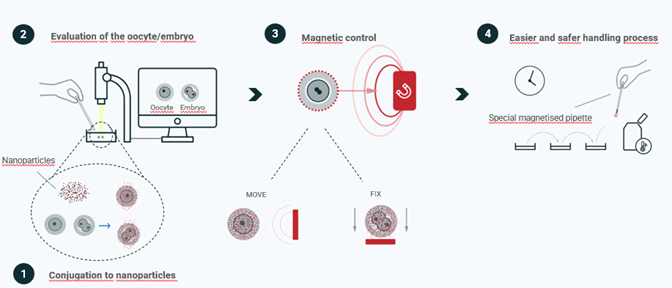 Benefits:
The technology allows to manipulate oocytes and embryos without physical contact, making the vitrification process easier and safer.
Permits the selection of competent ooyctes (matured oocytes) without the need for staining.
The technology mimics what happens naturally in the oviduct.
It allows the fixation of the embryos to the plate surface, thus improving the tracking and record and preventing undesired movements without the need for special plates.
The generation of a microfluidic flow in a dynamic cell culture improves the quality of embryo development.
The represented institution is looking for a collaboration that leads to commercial exploitation of the presented invention.
Institution: Universidad de Murcia
TRL: 5
Protection status: Spanish Patent Application with European and USA extension
Contact: Noelia Mas / noelia@viromii.com