According to the World Health Organization, cardiovascular diseases are the leading cause of death globally. Currently, in the European Union, there is an incidence of 3 million hospitalizations per year for the heart disease of Acute Coronary Syndrome. The recurrence rate for this disease is 16.3%, causing a greater number of deaths, as well as a great economic cost due to second hospitalizations and treatments. One of the factors influencing these data is that technologies developed for heart diseases are focused on diagnostics, being much less efficient in monitoring treatments for heart diseases.
Researchers from Interuniersity Research Institute for Molecular Recognition and Technology Development (IDM) have developed an In Vitro Diagnostics technology which could reduce the rate of patients with a second event due to better follow-up of affected patients, which would mean a better adjustment of prescribed medications.
The invention developed by IDM is an immunoassay system based on a compact disc technology called LightScribe. The potential of disk technology lies both in the use of disk drives as analytical instrumentation and an analysis platform.
This system allows to carry out the analysis process on flat circular platforms of different diameters, as well as on non-circular ones, with different remarkable shapes for the development of analytical applications. This optical in vitro immunoassay has been focused on cardiac biomarkers, in addition, it could also be applied to other receptors such as antibiotics, antibodies or enzymes.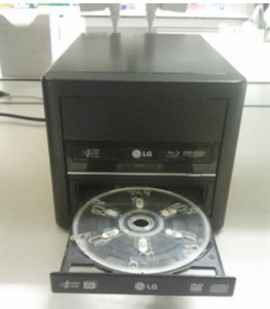 The system has been proven at a laboratory scale and in hospitals. In these experiments, the prototype has been tested with antibiotics for allergies.
Benefits:
Improved follow-up in the treatment of patients with heart disease, leading to a reduction in the number of patients suffering a second event.
Reduction of costs in terms of diagnosis due to the low cost of the technology.
Isolation capacity of various analysis zones on the same assay platform, allowing the analysis of different biomarkers in the same assay.
With a small amount of blood serum many type of targets can be detected.
Different potential applications, such as the identification of allergies to b-lactam antibiotics, genetic material or biomarkers.
The represented institution is looking for a collaboration that leads to commercial exploitation of the presented invention.
Institution: Institute for Molecular Recognition and Technology Development (IDM)
TRL: 4-5
Contact: Noelia Mas / noelia@viromii.com
Financing: UCIE IDM 2021 – 2023